Part of a series on
Web 2.0
Applications
MySpace. I imagine if I log into my old, old profile I'll see it occupying a virtual ghost town of rundown, abandoned walls and inactive profiles wearing out-of-fashion clothes and standing forlornly on street corners. Ads might blow past like tumbleweeds, as I navigate through the remains of a once-great social civilisation.
So where did MySpace go wrong?
In competing with Facebook over who could offer the best social platform, MySpace failed to follow some important best-practices. I'll take a look at these, but first...
What's a web platform?
In the olden days before software was written for the web, it was written for a specific platform, like Windows or Linux. Today, through the combined powers of Web 2.0, HTML5 and
friends
applications can be "platform independent", running in a web browser on almost any machine. The web itself has become the platform.
2.0 applications such as Facebook, Flickr, Amazon and eBay provide their own platforms, enabling developers to produce third-party apps that integrate with those sites in a variety of ways. You see this in action whenever you use an app on Facebook or log into another site using your Facebook credentials. (For further discussion about the properties and types of web platforms, see
Platforms on the Web are Platforms on a Platform
and
this
article which has a much less catchy name.)
MySpace vs Facebook
From 2005 to early 2008, MySpace was the world's most popular social networking site. In its heyday it competed with Facebook, but Facebook eventually won and now not even the uncool kids will admit to using MySpace. (For a more in-depth comparison of Facebook and MySpace,
this
article is worth a read.)
MySpace failed to follow these web platform best practices:
In failing to follow these best practices, MySpace dropped the ball and watched, sadly, as it slowly bounced away.
Goodbye MySpace, hello ... new Myspace
MySpace has now picked up that ball and is inviting the world to play a different game: new Myspace.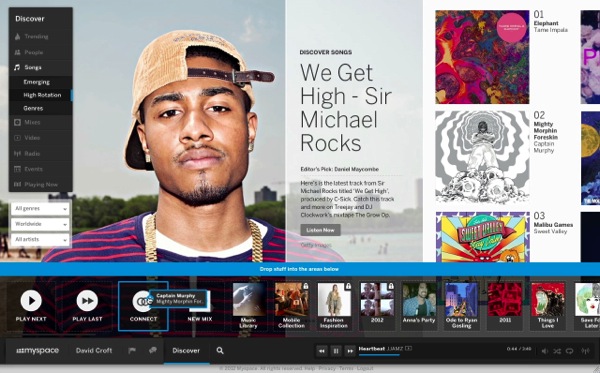 In January 2013, the site
reinvented
itself as a platform for showcasing artists, especially musicians, and for fans and artists to communicate. Kind of like Spotify and SoundCloud;
this
article gives a good summary of the new features. Myspace has dropped the camel case, and it looks like an entirely new product is emerging under the badge of the old one.
The new site looks really promising to me but I do wonder whether this reinvention has come too late?
So, what are your thoughts? Do you miss MySpace? Which was your favourite: MySpace or Facebook? C'mon, comments ... hit me with them!
Amber